KEIJI HAINO + SUMAC –
Even for just the briefest moment
Keep charging this 'expiation'
Plug in to make it slightly better
TROST | TR183 | CD / 2LP+DL / LP coloured | 2019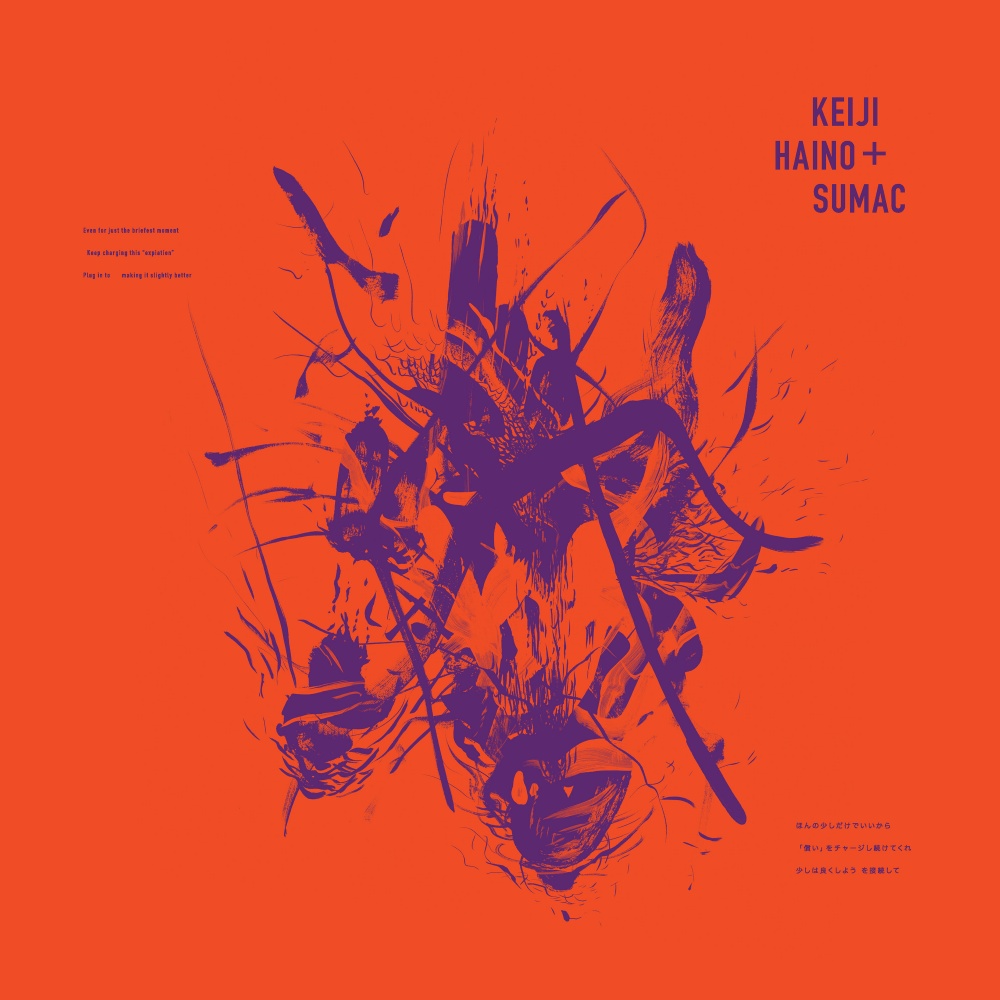 Keiji Haino – Guitar, Voice, Flute, Taepyeongso
Aaron Turner – Guitar
Nick Yacyshyn – Drums
Brian Cook – Bass
Post-metal sludge avantgarde powerhouse SUMAC around Aaron Turner (Isis, Old Man Gloom) follow up their collaboration with legendary Japanese guitarist and singer/performer Keiji Haino on Thrill Jockey (
American Dollar Bill – Keep Facing Sideways, You are too Hideous to Look at Face on
) with another monolith - heavy and experimental at the same time
formats:

CD / digital / double vinyl comes in an extra slipcase over the uncoated sleeve.
300 copies in clear vinyl for mailorder only incl download - very last copies
150 cassettes (out of stock)
Press


'four sprawling tracks of ominous, atmospheric music that ranges from eerily dissonant to noisily disturbing. That it came out of an improvised jam is exciting; that it's born of Sumac joining forces with one of psychedelic music's weirder minds is just awesome.
'
-Kerrang mag
CREDITS:
| | |
| --- | --- |
| Recording: | Soh Ki Moon at Fever, Tokyo. July 3rd 2017 |
| Mix: | Randall Dunn at Avast, Seattle, December 2018 |
| Mastering: | James Plotkin, Bethlehem, December 2018 |
| Artwork: | Aaron Turner |
Tracks
1
Interior Interior Interior Interior - Space - Disgusting Disgusting Disgusting
2
Now I've gone and done it I spilled holy water (just water) over that thing called healing music……………………………. /
3
Even for just the briefest moment / Keep charging this "expiation" / Plug in to making it slightly better
4
(First half) / Once, twice, thrice / When you press the third time / Carve esteem and despoliation into your heart (Sec
DIGITAL: