GUSH – Afro Blue
TROST | TR251 | CD | 2024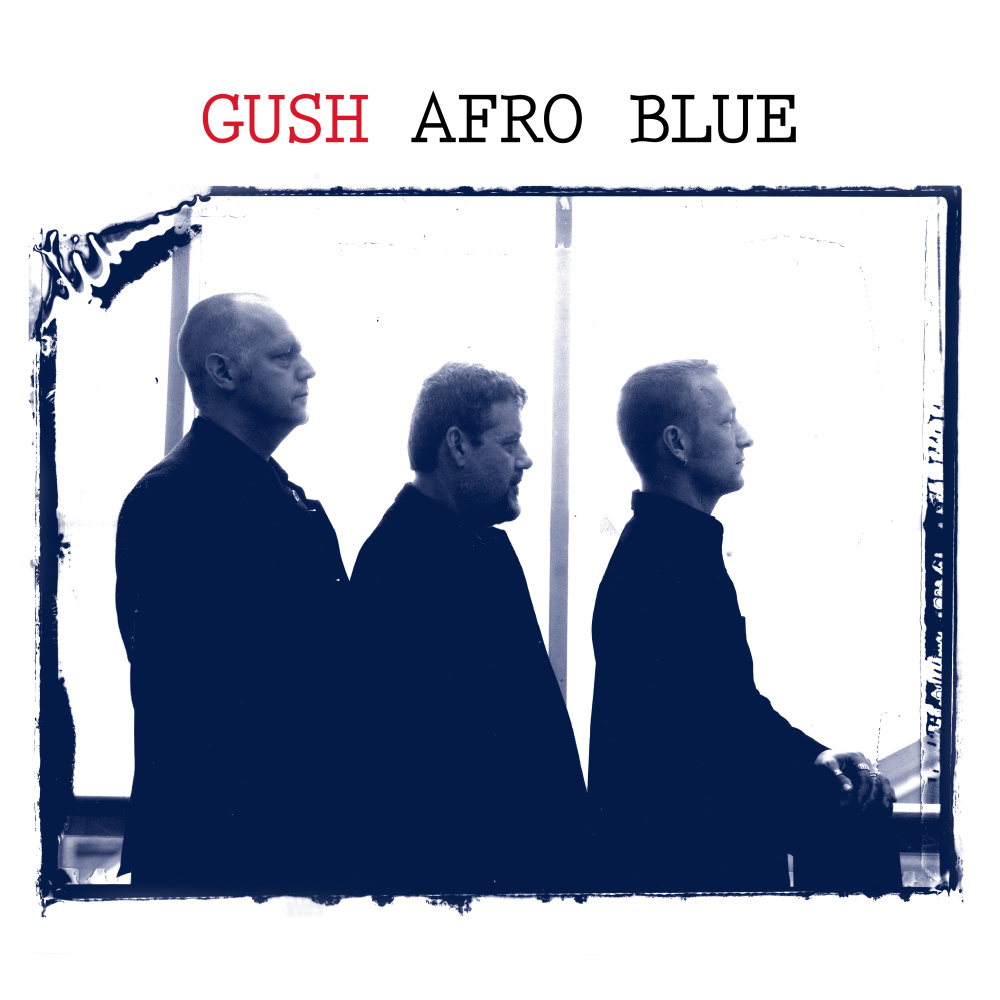 Saxophonist Mats Gustafsson is notorious for his prolific nature and constantly expanding circle of collaborators, but few of his partnerships have been as powerful and profound as GUSH, the Swedish trio which formed way back in 1988 and celebrates its 36
th
anniversary in 2024. Percussionist Raymond Strid and pianist Sten Sandell recognized Gustafsson's idiosyncratic talents early on and invited him into the fold for a drone-oriented project inspired by the meditative sound of the Armenian duduk—the double reed instrument made from apricot wood, made famous by the otherworldly playing of Djivan Gasparyan. Of course, the trio quickly shifted gears, and Gustafsson's sound and ideas galvanized the group. During the 1990s it gained power and gravity with each passing year, forging a collective attack that retained the deep jazz roots of each musician while also carving out space for heady sound-based exploration.
Strid discovered the music presented here on
Afro Blue
on a cassette during an epic archival project, digitizing some 1000 items from his collection. The performance was captured live at the famous Stockholm jazz venue Fasching on December 17, 1998, and the music excited all three musicians when they revisited it. Sandell soon discovered that he had the performance on a DAT and the great Viennese guitarist Martin Siewert mastered the recording for maximum punch. The clarity and depth are remarkable, but ultimately it's the performance itself that's most astonishing. The album is named for the Mongo Santamaria tune, which John Coltrane famously made his own, and the 19-minute account GUSH offers captures its own bold transformation of the piece. That performance is preceded by the two-part Sandell theme "Behind the Chords," a thrilling free jazz workout that sets the tone for "Afro Blue."
GUSH was obviously on fire this evening, pushing aside some of its conceptual interests for an unexpurgated leap into the free jazz inferno. As Gustafsson asks in his liner note essay, "When we now listen back to this live recording from Jazzclub Fasching in Stockholm we could not believe our ears. Pieces. Drone based structures with clear harmonic centers. Composed ideas. Even a Mongo Santamaria piece (made famous by the great John Coltrane). What happened here? What happened there? Why did we not continue that path?" The answer to those questions is that GUSH took different, no less satisfying paths, but time has passed and we have enough perspective to recognize the beauty, originality, and passion of this magical performance. GUSH has always been many things, and on Afro Blue we're lucky to revisit one side of that totality.
linernotes by Fredrik Nyberg and Mats Gustafsson
CREDITS:
| | |
| --- | --- |
| Recording: | Dec 17th 1998, by Pawel Lucki at Jazzclub Fasching, Stockholm. |
| Mastering: | Sep 11- 12th 2023, by Martin Siewert, Vienna. |
| Artwork: | Lasse Marhaug |
| Publisher: | Cien Fuegos |
| Photos: | Cato Lein (front), Christer Landergren, Inger Arvidsson |
Tracks
1
Behind the Chords V (27:22)
2
Behind the Chords VI (18:53)
4
Improvisation 2 (after the chords) (02:22)
DIGITAL: