TROST | TR184 | DVD | 2019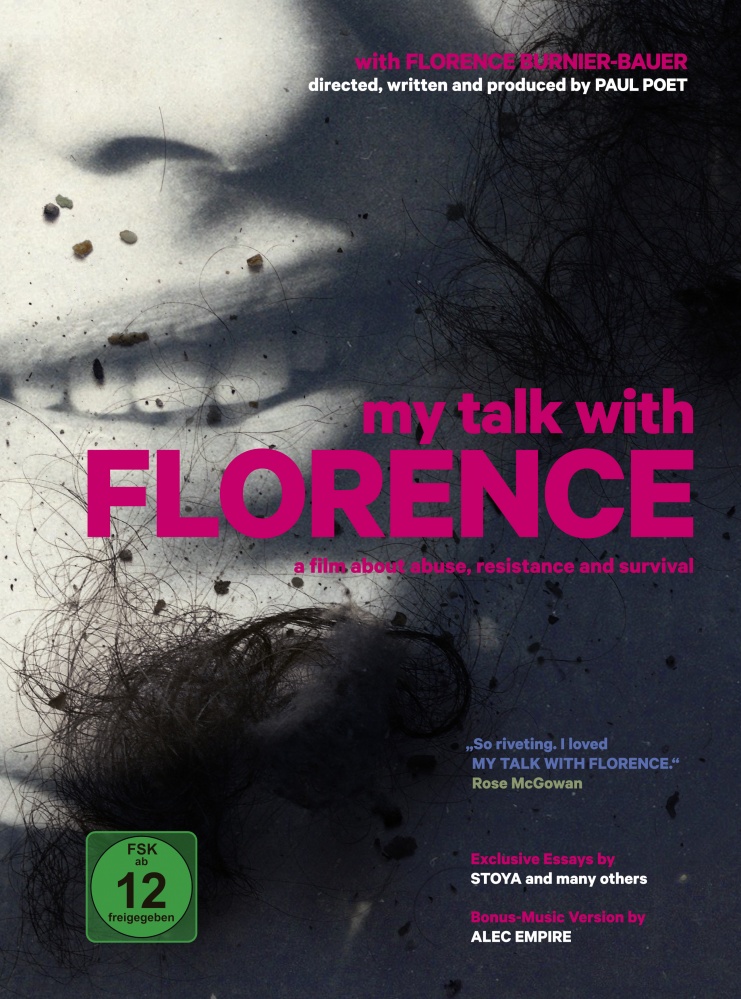 My Talk with Florence
is a biographical interview-film of Florence Burnier-Bauer and her intimate story. A life full of violence and abuse - in the family, on the road and finally in the commune of the Viennese actionist artist Otto Muehl. This is a big showdown with the dark side of Otto Muehl as an icon of counterculture and social experiments. Directed and written in 2015 by Austrian film maker Paul Poet ("Foreigners Out! Schlingensiefs Container", "Empire Me ").
The DVD contains the 128 Minute Film in German and English, a 20 Minute-TV-Interview with Paul Poet for Austrian Brodcast-Show "Oktoskop", a short documentary on the 2012 art exhibition of Florence by Paul-Julien Robert, excerpts from the Cinema Concert Version, German and English Trailer.
The booklet contains essays about the movie and its impact by Hollywood actress and activist Rose McGowan, Alt-Porn Icon Stoya, Sandra Nigischer (Sorority, Der Standard), Marina Richter (Cineuropa, OneBillionRising), Helga Christina Pregesbauer (Wortflechte, Workshops against Rape Culture), Hanin Hannouch (Kinofrau), Karin Schiefer (AFC), Paul Poet and Florence Burnier-Bauer.
Including a special audio-track with the soundtrack by Alec Empire,
created for the movie and performed at live-screenings
OFFICIAL TRAILER :
https://vimeo.com/125227153
A call to arms in the age of MeToo
(RWM Festival, Toronto)
Krass. Aufwühlend. Radikal.
(Jenny Billeter, Kuratorin Solothurner Filmtage)
Der ärgste Feelbad-Film von allen
(Brigitta Burger-Utzer, Sixpack Film)
CREDITS: