Scrooge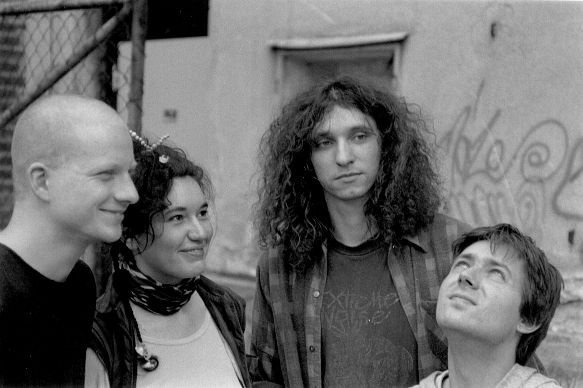 Regina Außerwöger - vocals, violin
Oliver Stotz - guitar, accordion, piano
Romeo Bissuti - bass
Günther Castanetti - drums
review from progarchives-site:
HAPPY WHAT ELSE was the debut released in 1995 and features some excellent avant-prog much in the vein of Thinking Plague only with post-punk sensibilities and bravado inspired by bands like Dog Faced Hermans. Add to that elements of chamber rock in the spirit of early Univers Zero and you're in for a real treat of high octane angularities run amok with this outstanding slab of uncompromising experimental rock that features 17 tracks and clocks just over 46 minutes.
(...) they offer a rotisserie of stylistic shifts, tempo changes and time signature barrages that will please anyone familiar with vocal era Henry Cow, Art Bears, News From Babel and most similarly Thinking Plague. The compositions feature those usual vocals-in-opposition where bizarre musical counterpoints and psychotic musical motifs make forbidden processions that exercise the right to rock in a post-punk format while nursing chamber rock violin parts and extended instrumental workouts.
This album delivers an extremely wild jittery ride through the world of angular weirdness with satisfying results throughout. Lots of violin string torture here as well as psychotic accordion runs but what i love most about SCROOGE's approach is that they go for the avant-prog jugular taking the sounds of Henry Cow and Art Bears as well as Thinking Plague and adding more dramatic examples of fast tempos and a greater diversity than the average band in this subsection of the prog universe. And some of the guitar parts are beyond bizarre! Truly one for the panheads out there who crave the weirdest of the weird.
RELEASES