Chicago Edge Ensemble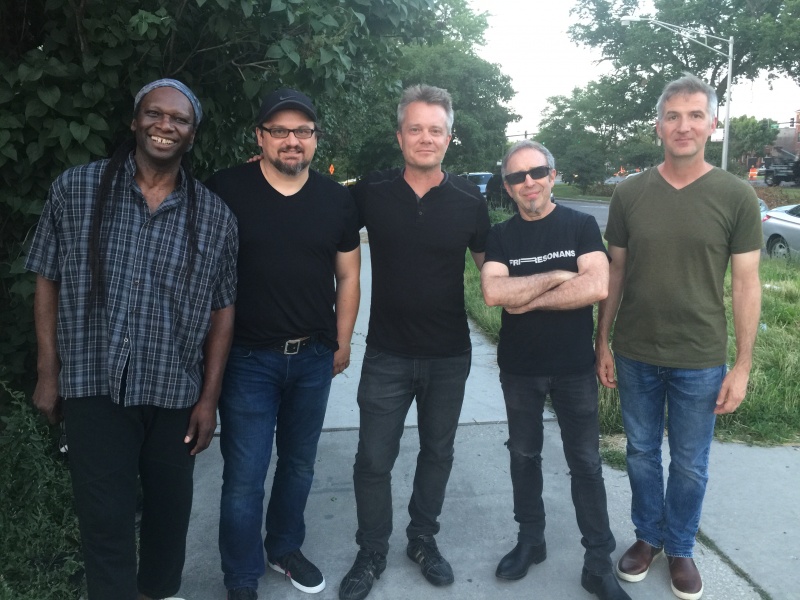 Dan Phillips
: Guitar
Mars Williams
: Saxophones and Percussion
Jeb Bishop
: Trombone
Krzysztof Pabian
: Double Bass
Hamid Drake
: Drums
Chicago Edge Ensemble showcases the talents of five jazz musicians, all of whom boast their own extensive resumes of projects and collaborations. Guitarist and composer Dan Phillips leads the quintet which features saxophonist Mars Williams, whose history includes a long list of collaborations and diverse projects from the Psychedelic Furs to Fred Frith to BONESHAKER w/ Paal Nilssen-Love and Kent Kessler (Trost Records). Percussionist Hamid Drake has deep roots in jazz, with his early-career collaborators including Fred Anderson and Don Cherry. Trombonist Jeb Bishop is known for his long involvement in the Vandermark Five as well as many other adventurous collaborations e.g. Peter Brötzmann Chicago Tentet but also including math jazz punk groups such as Zu and The Flying Luttenbachers. Classically trained bassist Krysztof Pabian has performed under Pierre Boulez and Daniel Barenboim, and has contributed to a wide array of both symphonic and jazz projects.
"
Dan Phillips leads a quintet with muscle and a big Chicago sound and memorable compositions
." --
The Wire
.
"
Chicago jazz is the complexity of the postmodern sound with a predisposition for rump shaking. The quintet rarely lowers the flame from boiling
." --
All About Jazz
.
"
Fans of both traditional and more adventurous jazz will find much to like here. Indeed, the Chicago Edge Ensemble does manage to succeed in representing the city's diverse musical roots, and in a highly enjoyable fashion to boo
t." --
Avant Music News
.
RELEASES